Quality Cakes and Bakes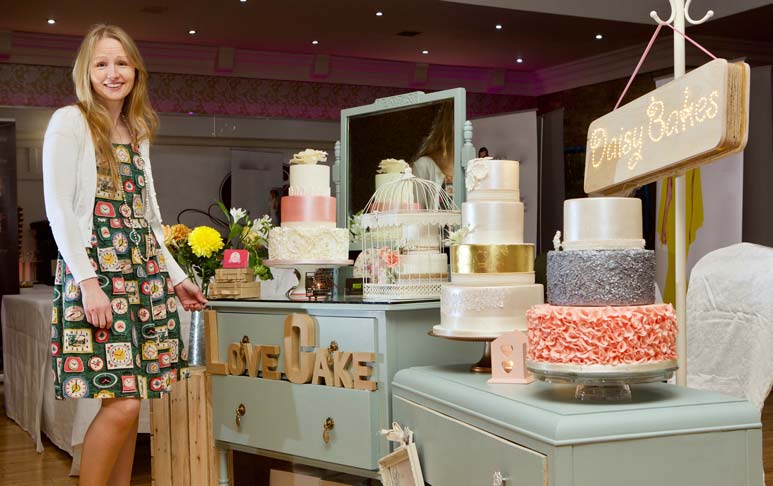 I'm a proud mum of 5 small kids and home baking has always been a daily thing for as long as I can remember, and it was out of this passion for quality bespoke baking that Daisy Bakes was born.
I work from home in my fully registered HSE kitchen and to date it's been a fantastic adventure. I use only the best of ingredients, the inside flavor of my cakes are just as important as the outside. I'm not about mass production, it's about the little things – the right color, the right flower, and the right detail and of course the right flavours.
I'm based in a small village in West Limerick, right on the border of Co. Kerry and Co. Cork so I can service a wide area for my customers
I'd love to hear from you and discuss your cake ideas, be it a wedding, christening, birthday or just a cake for celebrations sake; I'd love to hear from you. You can reach me below on Facebook, send me an email, or drop me a buzz, Sinead xx
Daisy Bakes
Sinead Morris
Mountcollins
Co. Limerick
087 7527 580
You can find out more about Daisy Bakes on:
Michelle


"Sinead is beyond talented and it is clear from her finished pieces that she pours her heart and soul into every cake she bakes she made the most beautiful cake for my sister's 21st and everybody absolutely loved it. Her cakes are beautiful to look at but tastes even better."
Tracey and Chris


"Dealing with Sinead from Daisy Bakes in the lead up to our wedding was such a pleasure. It did not bother her that we left it so late to approach her to begin with, and considering she had such little time to work, she did a top class job. Thanks a million Sinead"
Lorraine and John


"Sinead made our cake for our wedding in July and it was just perfect! She listened to everything we wanted and the cake was amazing it tasted as good as it looked! I even got messages from guests after looking for her details, as the cake was so good! If you are looking for a delicious cake that will also look incredible Daisy Bakes is for you."
Norma


"I tasted Daisy Bakes Cakes at a wedding last week and it was second to none. The flavor was to die for; I had to go back for more. It was so moist and very evident that quality ingredients had been used. I'm looking forward to ordering from Daisy Bakes in the future. 10 out of 10 for me for both the design of the cake and of course the finger-licking flavor."
Dawn


"Prompt service, wonderful attention to detail, and yummy cake what more could you ask for. Cant recommend this wonderful lady's creations enough… a pleasure to deal with from start to finish."
Christina


"Very nice and friendly loved my cake it was exactly what I asked for, I was so happy with it I have told my friends how good you were and defiantly we'll be going to you again thanks."
Would you like to read more? Please click the link below.